Vitalite Now Probiotic & Prebiotic Review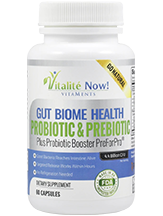 The thing we liked about this probiotic supplement is that it contains a prebiotic blend which is essential for a probiotic supplement to work effectively.  It also comes backed by a money-back guarantee and has a GMP certification, so you know that the manufacturer is serious. This product is a decent price, but if you are looking for a long-term product, this may not be a great option as there aren't any discounts for multiple purchases which is something that we found a shame. 
Another thing we found to be a shame is that this product only contains 4 probiotic strains and it does not contain Saccharomyces boulardii, which is a unique strain of yeast that helps improve digestive issues. It also has a low potency at only 4.4 billion CFU. For better results, it is ideal for a product to contain at least 20 billion CFU, but not be too high as to destroy the natural growth of the healthy bacteria in the gut (60 billion CFU plus). 
Is Vitalite Now Probiotic & Prebiotic Effective?
On the surface, this looks like a great product. A professional looking website, images of the bottle and label, it comes with a money-back guarantee, and is GMP-certified. These are all positive elements of a high-quality product. However, the supplement fell a bit flat in the ingredients, which is what gives a product its results. It only contains 4 strains of probiotics, which is not very varied for optimal results. For improved benefits, we prefer seeing a supplement with a wider range of probiotic strains. A higher potency would also be better as this product only provides 4.4 billion CFU, which is quite low in the probiotic's world.
This product also contains a number of inactive ingredients, which we are not clear what their purpose is in a probiotic supplement. Ideally, you don't want any other ingredients to water down the main ingredients which will then lose some of their benefits.
There are very few customer reviews available online to really determine the effectiveness of this supplement.
Is Vitalite Now Probiotic & Prebiotic Safe?
We found nothing in this product that we felt was unsafe. As with any new supplement or diet introduced into your daily life, we always advise talking to your healthcare professional about possible contraindications of any pre-existing medical conditions or medications which you are taking. Supplements work differently for everyone and the effects vary between individuals so it is always a good idea to run any health changes with a professional.
Summary
Although this looks like a great product on the surface and comes with some good indicators of it being a high-quality product, we were let down by the actual formula. With only 4 strains of probiotics at a dosage of 4.4 billion CFU, we find this to be significantly lower than other products available on the market. This means you could get better results with other products. We are also uncertain about the extra ingredients found in the product and what their purpose is. We liked the price tag for this product but was disappointed by the fact that this manufacturer doesn't offer any multiple deal discounts for purchasing two or more bottles. All in all, not a bad product, but could be better. 
What You'll Discover:
✓
Which Probiotic is the BEST BUY and comes with a great GUARANTEE!
✓
Which formula and ingredients are the most EFFECTIVE and work the fastest?
✓
How NOT to get ripped off! BE AWARE of poor quality and cheap products.
The Top 6 Items to Consider:
Ingredients
Cost Per Serving
Product's Testing Results
Company's Reputation
Consumer Reviews
Return Policy & Satisfaction Guarantee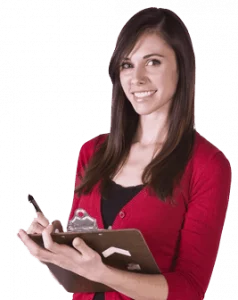 Sign Up For Our Newsletter!
We will send, straight to your inbox, the latest and most relevant information regarding to keep you updated and informed.
Our promise: We will never share your contact details, unless you give us permission. And, we will only ever send you information that is helpful and significant.